[fusion_builder_container background_color="" background_image="http://www.iackids.org/wp-content/uploads/2016/06/color-run-2016.001.jpeg" background_parallax="fixed" enable_mobile="no" parallax_speed="0.3″ background_repeat="no-repeat" background_position="left top" video_url="" video_aspect_ratio="16:9″ video_webm="" video_mp4="" video_ogv="" video_preview_image="" overlay_color="" overlay_opacity="0.5″ video_mute="yes" video_loop="yes" fade="no" border_size="0px" border_color="" border_style="solid" padding_top="20″ padding_bottom="20″ padding_left="" padding_right="" hundred_percent="no" equal_height_columns="no" hide_on_mobile="no" menu_anchor="" class="" id=""][fusion_builder_row][fusion_builder_column type="1_1″ last="yes" spacing="yes" center_content="no" hide_on_mobile="no" background_color="" background_image="" background_repeat="no-repeat" background_position="left top" hover_type="none" link="" border_position="all" border_size="0px" border_color="" border_style="" padding="" margin_top="" margin_bottom="" animation_type="" animation_direction="" animation_speed="0.1″ animation_offset="" class="" id=""][fusion_separator style_type="none" top_margin="100px" bottom_margin="100px" sep_color="" border_size="" icon="" icon_circle="" icon_circle_color="" width="" alignment="center" class="" id=""/][fusion_text]
IACKids Fest & Color Dash 

2016
[/fusion_text][fusion_separator style_type="none" top_margin="100px" bottom_margin="10px" sep_color="" border_size="" icon="" icon_circle="" icon_circle_color="" width="" alignment="center" class="" id=""/][/fusion_builder_column][/fusion_builder_row][/fusion_builder_container][fusion_builder_container background_color="" background_image="" background_parallax="none" enable_mobile="no" parallax_speed="0.3″ background_repeat="no-repeat" background_position="left top" video_url="" video_aspect_ratio="16:9″ video_webm="" video_mp4="" video_ogv="" video_preview_image="" overlay_color="" overlay_opacity="0.5″ video_mute="yes" video_loop="yes" fade="no" border_size="0px" border_color="" border_style="" padding_top="20″ padding_bottom="20″ padding_left="0″ padding_right="0″ hundred_percent="no" equal_height_columns="no" hide_on_mobile="no" menu_anchor="" class="" id=""][fusion_builder_row][fusion_builder_column type="2_3″ last="no" spacing="yes" center_content="no" hide_on_mobile="no" background_color="" background_image="" background_repeat="no-repeat" background_position="left top" hover_type="none" link="" border_position="all" border_size="0px" border_color="" border_style="solid" padding="" margin_top="" margin_bottom="" animation_type="0″ animation_direction="down" animation_speed="0.1″ animation_offset="" class="" id=""][fusion_title size="2″ content_align="left" style_type="default" sep_color="" margin_top="" margin_bottom="" class="" id=""]THE EVENT[/fusion_title][fusion_text]
What's a Color Dash?
It's our very own 3K running course designed to let kids get messy and full of color by running through our four "color stations" where they will be "colored" while raising money for a wonderful cause.
Registration
Registration is simple and can be done by filling out the form below. The fee is just $30 per runner. If you wish to raise more, sponsors can donate to your child once they've registered by entering their name and donating any amount using the donation form below. The more they raise, the better as 100% of all funds raised goes right to our amazing IACKids families right here in the Rochester area. What's better than Kids helping IACKids?
Other Fun Activities!
The other component to our IACKids Fest is the endless FREE activities for your children to take part in. Bounce houses, arts & crafts, face painting, snow ice truck, dunk tank, DJ with kids music, games, and much more!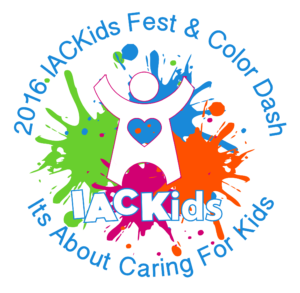 [/fusion_text][fusion_separator style_type="none" top_margin="10″ bottom_margin="10″ sep_color="" border_size="" icon="" icon_circle="" icon_circle_color="" width="" alignment="center" class="" id=""/][/fusion_builder_column][fusion_builder_column type="1_3″ last="yes" spacing="yes" center_content="no" hide_on_mobile="no" background_color="#ededed" background_image="" background_repeat="no-repeat" background_position="left top" hover_type="none" link="" border_position="all" border_size="0px" border_color="" border_style="solid" padding="15px" margin_top="" margin_bottom="" animation_type="0″ animation_direction="down" animation_speed="0.1″ animation_offset="" class="" id=""][fusion_title size="2″ content_align="left" style_type="default" sep_color="" margin_top="" margin_bottom="" class="" id=""]LOCATION[/fusion_title][fusion_text]
When: 
August 14, 2016 from 1pm – 3pm.
Registration begins at 11:30am.
Where:
Total Sports Experience
(880 Elmgrove Rd)
[/fusion_text][fusion_map address="880 Elmgrove Rd., Rochester, NY 14624″ type="roadmap" map_style="default" overlay_color="" infobox="default" infobox_background_color="" infobox_text_color="" infobox_content="Total Sports Experience" icon="" width="100%" height="300px" zoom="14″ scrollwheel="yes" scale="yes" zoom_pancontrol="yes" animation="yes" popup="yes" class="" id=""][/fusion_map][/fusion_builder_column][/fusion_builder_row][/fusion_builder_container][fusion_builder_container background_color="" background_image="" background_parallax="none" enable_mobile="no" parallax_speed="0.3″ background_repeat="no-repeat" background_position="left top" video_url="" video_aspect_ratio="16:9″ video_webm="" video_mp4="" video_ogv="" video_preview_image="" overlay_color="" overlay_opacity="0.5″ video_mute="yes" video_loop="yes" fade="no" border_size="0px" border_color="" border_style="" padding_top="20″ padding_bottom="20″ padding_left="0″ padding_right="0″ hundred_percent="no" equal_height_columns="no" hide_on_mobile="no" menu_anchor="" class="" id=""][fusion_builder_row][fusion_builder_column type="1_1″ last="yes" spacing="yes" center_content="no" hide_on_mobile="no" background_color="" background_image="" background_repeat="no-repeat" background_position="left top" hover_type="none" link="" border_position="all" border_size="0px" border_color="" border_style="" padding="" margin_top="" margin_bottom="" animation_type="" animation_direction="" animation_speed="0.1″ animation_offset="" class="" id=""][fusion_tabs design="classic" layout="horizontal" justified="yes" backgroundcolor="" inactivecolor="" bordercolor="" class="" id=""][fusion_tab title="REGISTRATION" icon="fa-pencil"]Online registration is now closed. You may register in person the day of the event.[/fusion_tab][fusion_tab title="DONATE" icon="fa-heart"]
[/fusion_tab][/fusion_tabs][/fusion_builder_column][fusion_builder_column type="1_1″ background_position="left top" background_color="" border_size="" border_color="" border_style="solid" spacing="yes" background_image="" background_repeat="no-repeat" padding="" margin_top="0px" margin_bottom="0px" class="" id="" animation_type="" animation_speed="0.3″ animation_direction="left" hide_on_mobile="no" center_content="no" min_height="none"][fusion_separator style_type="none" top_margin="10″ bottom_margin="10″ sep_color="" border_size="" icon="" icon_circle="" icon_circle_color="" width="" alignment="center" class="" id=""/][/fusion_builder_column][/fusion_builder_row][/fusion_builder_container][fusion_builder_container background_color="" background_image="" background_parallax="none" enable_mobile="no" parallax_speed="0.3″ background_repeat="no-repeat" background_position="left top" video_url="" video_aspect_ratio="16:9″ video_webm="" video_mp4="" video_ogv="" video_preview_image="" overlay_color="" overlay_opacity="0.5″ video_mute="yes" video_loop="yes" fade="no" border_size="0px" border_color="" border_style="" padding_top="20″ padding_bottom="20″ padding_left="0″ padding_right="0″ hundred_percent="no" equal_height_columns="no" hide_on_mobile="no" menu_anchor="" class="" id=""][fusion_builder_row][fusion_builder_column type="1_1″ last="yes" spacing="yes" center_content="no" hide_on_mobile="no" background_color="" background_image="" background_repeat="no-repeat" background_position="left top" hover_type="none" link="" border_position="all" border_size="0px" border_color="" border_style="" padding="" margin_top="" margin_bottom="" animation_type="" animation_direction="" animation_speed="0.1″ animation_offset="" class="" id=""][fusion_title size="2″ content_align="left" style_type="default" sep_color="" margin_top="" margin_bottom="" class="" id=""]
2015 PHOTOS
[/fusion_title][fusion_code]W2h1Z2VfaXRfZ2FsbGVyeSBpZD0iMiJd[/fusion_code][/fusion_builder_column][fusion_builder_column type="1_1″ background_position="left top" background_color="" border_size="" border_color="" border_style="solid" spacing="yes" background_image="" background_repeat="no-repeat" padding="" margin_top="0px" margin_bottom="0px" class="" id="" animation_type="" animation_speed="0.3″ animation_direction="left" hide_on_mobile="no" center_content="no" min_height="none"][fusion_separator style_type="none" top_margin="10″ bottom_margin="10″ sep_color="" border_size="" icon="" icon_circle="" icon_circle_color="" width="" alignment="center" class="" id=""/][/fusion_builder_column][/fusion_builder_row][/fusion_builder_container]